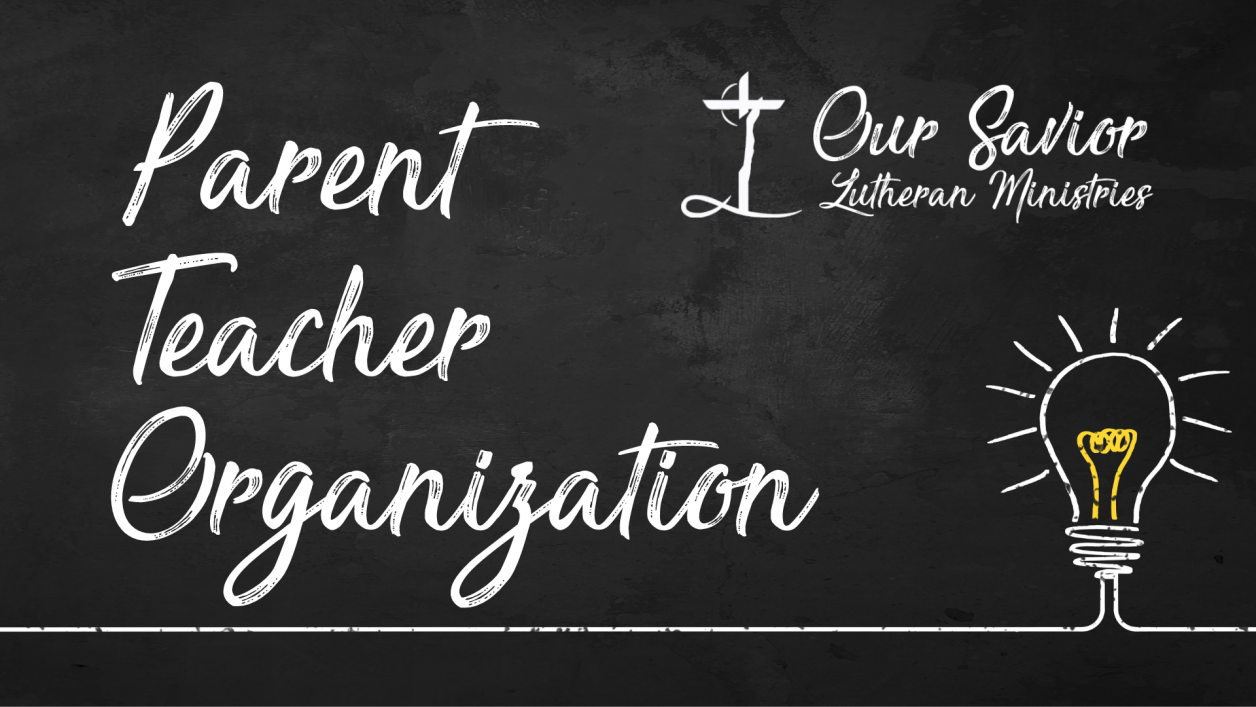 PTO Update
OSLS Parent Teacher Organization...

The OSLS PTO is a collaborative effort of the parents and staff of Our Savior Lutheran School. Our purpose is to "Inspire Tomorrow's Leaders Today at the Intersection of Faith and Excellence." The PTO pursues this purpose through family education, fellowship, and fundraising. The desired outcome from the activities of the PTO consists of an effective pursuit of personal, social, and academic excellence in the following areas:
Family Education: Events shall be conducted to extend the pursuit to the "whole family."
Fellowship: Events shall be conducted to develop and foster relationships among the "families" of OSLS.
Fundraising: Events shall be conducted to provide supplemental resources to enhance the mission of OSLS.
- OSLS PTO Charter
As we welcome you back to another wonderful school year, we want to update you on our PTO team, last years successes, and our goals for 2021-2022. As Principal Julie Knight will be highlighting, we have much to be proud of and remain hopeful and excited for the school year!
All fundraisers- (See's Candies, Thanksgiving Pie's, Dance-A-Thon, and Script) raised over $35,000! That's more than the previous year!

New PTO events last year (Easter See's, PTO and City of Livermore Police Department Welcome to 2021 Event, School Spirit message on the Livermore Vine Cinema Marquee, and Spring Dance-A-Thon were all a success!
Funds raised from 2020-2021 were used to support the following:
an increase to the Teacher Yearly Class Fund per student, instead of per class

updating the Middle School Science Lab with additional STEM-related equipment

additional overhead shade structures around campus; bids in process; work to be complete this school year
Executive Team (4th year) of Christine Thompson-President and parent of a 6
th
and 1
st
grader. Jennifer Oliva-Herrington-Treasurer and parent of a 6
th
and 4
th
grader. Joining us this year is Ruby Lopez- Villarreal- Secretary and parent of a 1
st
grader and a preschooler.
Fundraisers – Thanksgiving Pies and Christmas See's Candy

Trunk or Treat

Christmas Joy with Livermore Police Department

Script

End of Trimester Campus Celebrations

Spring Events: Teacher Appreciation Week, Daddy Daughter Mother Son Dance, End of the Year Picnic

Family Movie and BINGO Nights
Please plan to attend our future PTO Meetings – see the Paw Prints Newsletter for more information!
We will be counting on each family this year to help support the PTO as we work together to continue to outfit our school so that our children can continue to have " the best of the best" in education! Your tuition dollars do not cover all the greatness that OSLS offers – PTO fundraisers help close the gap and bridges us together with student-loved fellowship events along with investments into the classrooms and for our campus!
So jump in and be part of the OSLS community! Join us at a PTO meeting or send us a message. We'd love to talk with you about how you can help! You can reach us at: