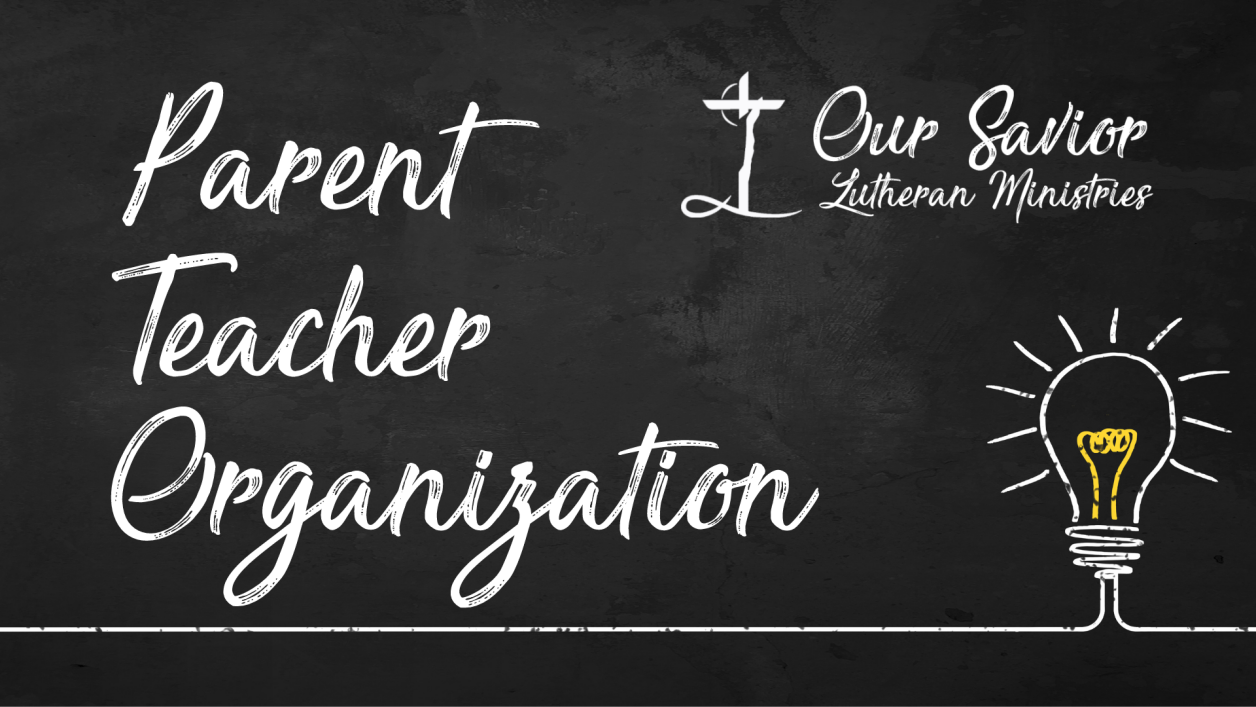 OSLS Parent Teacher Organization...

The OSLS PTO is a collaborative effort of the parents and staff of Our Savior Lutheran School. Our purpose is to "Inspire Tomorrow's Leaders Today at the Intersection of Faith and Excellence." The PTO pursues this purpose through family education, fellowship, and fundraising. The desired outcome from the activities of the PTO consists of an effective pursuit of personal, social, and academic excellence in the following areas:
Family Education: Events shall be conducted to extend the pursuit to the "whole family."
Fellowship: Events shall be conducted to develop and foster relationships among the "families" of OSLS.
Fundraising: Events shall be conducted to provide supplemental resources to enhance the mission of OSLS.
- OSLS PTO Charter
OSLS PTO works throughout the year to enhance our children's educational and social experience. For 2019, we will continue the well-received and highly popular events: Fall Fundraiser (Dance- A-Thon), Trunk-or-Treat, Holiday Fundraisers - Thanksgiving Pies and Easter Sees, Teacher Appreciation Week, Father-Daughter/Mother-Son Dance, Scrip, Lucky Shares, Box Tops for Education, and the End of the Year Picnic.
On the fundraising side, our efforts raise money for specialized yearly "fund a need" items such as library upgrades, an intercom system, and the like. PTO also sponsors school assemblies, gives classroom funds to every teacher, works to enhance literacy through the Accelerated Reading Program, and sponsors various extracurricular clubs, such as MATH Counts, Yearbook, Lego Robotics, and Drama.
Over the years, these various fundraising efforts have raised money to upgrade the computer lab with new computers, update the middle school science room and computer lab interiors, repaint the blacktop graphics and refurbish the ball wall. Recently we added a Super Dome play structure on the east playground and installed a shade structure on the preschool playground. PTO also made a significant contribution to the digital sign that greets students.
Why get involved?
Top Five Reasons to Volunteer:
Volunteering makes a big difference in the life of your child!

Research shows that kids who have parents who volunteer consistently do better in school! That's a win!

Volunteering helps you connect with your child.

Your child spends a lot of time at school. Why not use that school time to connect with your child by sharing some of their school-related experiences with them.

You get to know other parents and school staff.

Volunteering helps create community around a shared interest (OSLS) and is a good place to start making friends and establishing relationships. It also helps you create connections with school leaders and teachers so we can work together to "inspire tomorrow's leaders today!"

You get to bring your own ideas to the table

. Volunteering gives you the opportunity to bring your own creative ideas to life. Some of our most loved events came about because someone had a great idea and brought it to life. You can do the same!

It's fun!

You never know how handing out water at the dance-a-thon or serving ice cream at the picnic can spice up your week!
So jump in and be part of the OSLS community! Join us at a PTO meeting or send us a message. We'd love to talk with you about how you can help! You can reach us at: